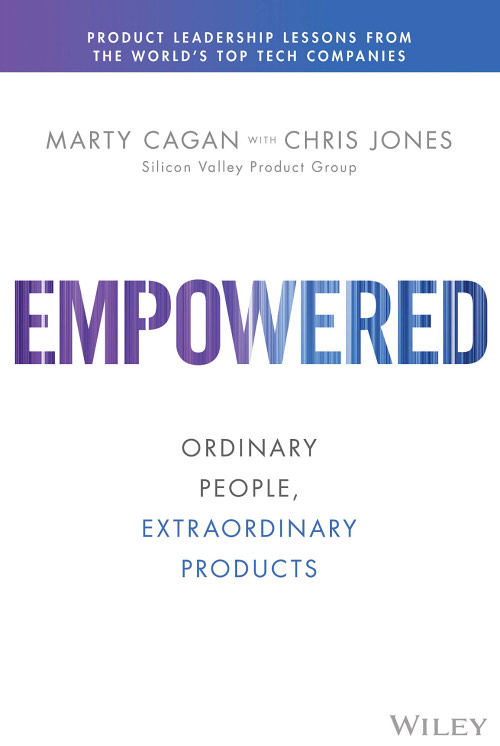 EMPOWERED: Ordinary People, Extraordinary Products
What is it about the top tech product companies such as Amazon, Apple, Google, Netflix and Tesla that enables their record of consistent innovation?
Most people think it's because these companies are somehow able to find and attract a level of talent that makes this innovation possible. But the real advantage these companies have is not so much who they hire, but rather how they enable their people to work together to solve hard problems and create extraordinary products.
As legendary Silicon Valley coach – and coach to the founders of several of today's leading tech companies – Bill Campbell said, "Leadership is about recognizing that there's a greatness in everyone, and your job is to create an environment where that greatness can emerge."
In EMPOWERED, authors Marty Cagan and Chris Jones provide you, as a leader of product management, product design, or engineering, with everything you'll need to create just such an environment.
topics covered
What it means to be an empowered product team, and how this is different from the "feature teams" used by most companies to build technology products
Recruiting and coaching the members of product teams, first to competence, and then to reach their potential
Creating an inspiring product vision along with an insights-driven product strategy
Translating that strategy into action by empowering teams with specific objectives—problems to solve—rather than features to build
Redefining the relationship of the product teams to the rest of the company
Detailing the changes necessary to effectively and successfully transform your organization to truly empowered product teams
about the authors
Marty Cagan founded the Silicon Valley Product Group in 2001 to pursue his interests in helping others create successful products through his writing, speaking, advising and coaching. Prior to that, Marty served as an executive responsible for defining and building products for some of the most successful companies in the world, including Hewlett-Packard, Netscape Communications, and eBay. Chris Jones has spent over 30 years building and leading product teams that defined new product categories at startups to F500 software companies including Lookout, Symantec, and Vontu. A holder of multiple patents, he has discovered and developed new products in consumer and enterprise mobile, web, data, and platform services. Since joining SVPG in 2015, he has advised over 200 leading companies across a range of industries that includes retail, healthcare, social media, security, manufacturing, AI, entertainment, supply chain and logistics, SaaS, EdTech, transportation, and many others.